Krezip Mountain (Together with EmceeMart)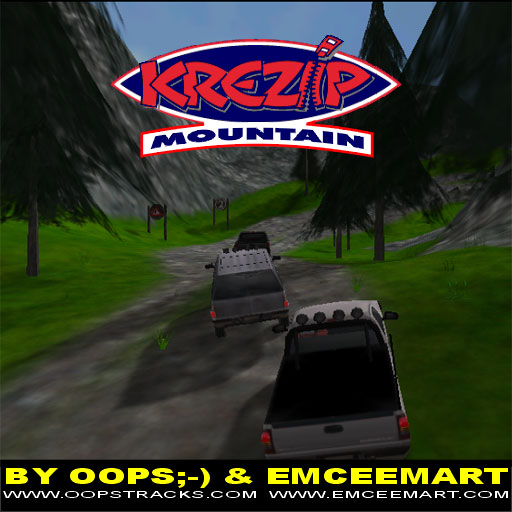 This is kind of the first 4x4evo track I ever made. When i was able to obtain an early alpha version of the game (one that was accidently put on a CD with the french magazine "joystick", merci beaucoup) I emediatly started to work on a new track that Emceemart refered to as "Snot Mountain". Only later I added an ofcourse that is now known as "Gromit's Day Off".

Somehow however I never got around finnishing the center course that was hidden inside, that was until EmceeMart showed some interest in working on it.

He will tell you I give him too much credit for just adding some models, I say now that he is sometimes just "acting silly", without these models it's just textures........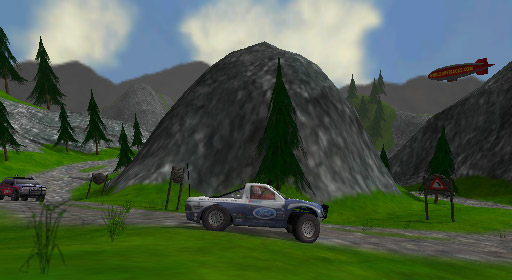 This is description of the track Emceemart send me:

It is the inner track to be found in Gromit's Day Off that OOPS! graciously let me (EmceeMart) finish for him.

The track was already laid out so I have changed none of the terrain. I have just added models (more like re-positioned), checkpoints and NKA_street's AI to make it a working track.

Notes to drivers:

Beware the first jump on the climb after the start, gas off about 3/4 the way up the hill or you will overshoot and get stuck at the first right-hand bend.

CP1 is fairly easy to negotiate then you have a nice straight with a jump and uphill climb towards CP2. Slow down a little nearing the top of the climb. After going through CP2 you have a tight turn towards CP3... a nice tempting straight .... but there is a wicked little bump which will throw you right off course without braking.

Going through the CP3 right-hander can be tricky at the wrong speed. Then there's a nice straight before the next left-hander which takes you under the bridge to another left-hander towards CP4. Mind your speed/accelleration here. Once through CP4 there is a straight/windy decent and a straight but bumpy ride to the gear-punishing ascent to CP5.

Before hitting CP5 you have to negociate a sharp inclined 180 degree right-hander. Be aware... at this point (CP5) you think you are gaining an advantage by gathering speed but... this is a very nasty laft-hand turn downhill that takes you back to the start/finish line. Get it wrong and you will lose the race! Basically CP's 3 & 5 are the tough ones to negotiate.

This is a good simulation of a "real" 4x4 track. You have to use gears, accellerator and brakes at the right times. It's a narrow and challenging road and the bots will give you a tough time. A challenge to racers and 4x4 purists alike.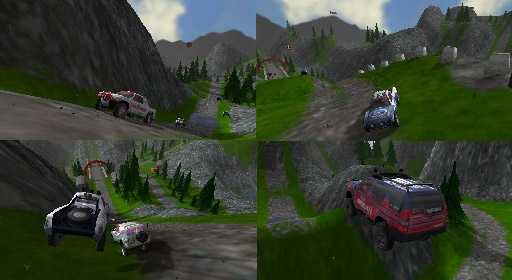 Now what is Krezip exactly, well just a local band that does very well overhere, goto www.krezip.com to find out more about this band, I'm sure you'll love it as much as I do.

Here's a list of who did what on this track :

EmceeMart : Repainted helicopters and model placement throughout the track. Halfdone : Modeling assistance on bridge and grandstand.
NKA_Street : Billboard Model and AI lines. TRI : Hangglider, boats and baloon.

All other models and textures by OOPS;-) except for the ground vegetation texture, this is based on a texture by Sir James.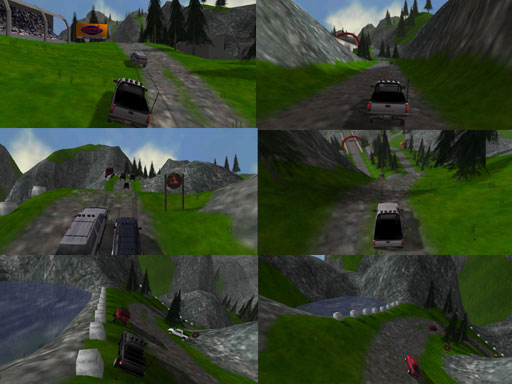 The ZIP version of this track is availlable at KC's, ENJOY!

Please leave your comments here


---